Walk for Prems
Event Information
Date

DATE
23 October 2016
Add event to calendar

Time

TIME
9.30AM - 1.30PM

Location

LOCATION
Sir James Mitchell Park
Coode Street,

Cost

COST
Adult $27
Child $14.50 – under 16 years old
Baby $7 – under 2 years old​

Hosted by

HOSTED BY
Life's Little Treasures Foundation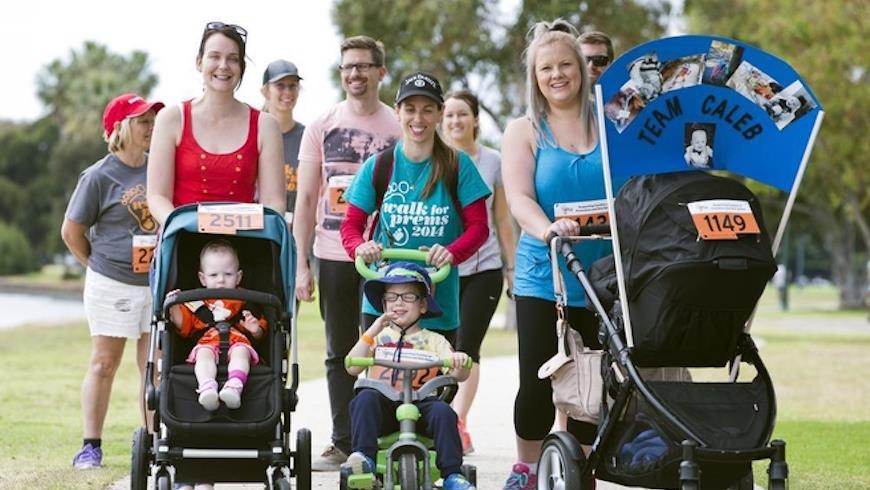 Each year thousands of babies are born premature or sick. With your help, Life's Little Treasures Foundation can support these families along their journey.

On the 23 October 2016, at locations throughout Australia, families, friends and supporters are walking and running to raise funds for Life's Little Treasures Foundation. The money raised goes towards providing vital services to families of premature and sick babies.

After enjoying a walk around Sir James Mitchell Park, join our ambassadors and supporters who come together to make this an enjoyable and memorable day.Bring a picnic and relax with other families while the kids enjoy great entertainment and music.

Each adult, child, or baby must register for the Walk for Prems event to be able to participate.

Walk Details:
9.30am Event commences
10.25am Remembrance Ceremony
10.30am Walk start
11.45am BYO Picnic and join other families while the kids enjoy the children's entertainment
1.30pm Close

Entry Fees:
From 1st September 2016
Adult $27
Child $14.50 – under 16 years old
Baby $7 – under 2 years old
Cant make it on the day? Join the Virtual Walk Team.
Included in your entry fees:
Your entry fee entitles you to take part in the walk and enjoy all the activities such as face painting, amusement rides and other children's entertainment free of charge.
A race bib and event wristband will be posted to you before the event; these must be worn on the event day.Entry for each registered individual into the door-prize competition.

Registrations for Perth will close on 10 October 2016.
Activities: Face painting, jumping castle and children's entertainment.
Photographer: Look out for our professional photographer who will be taking photos for Life's Little Treasures Foundation website and Facebook page.

Parking: There is parking available close to the event site.