Canning Bridge Activity Centre Plan
The Canning Bridge Activity Centre Plan (CBACP) is a guide for development in the precinct surrounding the Canning Bridge Station on both sides of the Canning River and comprising land within both the City of Melville and the City of South Perth. The area is recognised as an 'activity centre' under State Government policy.
The CBACP establishes a foundation for the future of the area through a series of objectives and goals for its ongoing development; guidelines for the style of expected built form; and an implementation framework for improvements to infrastructure and land over time.

The CBACP was prepared by the Western Australian Planning Commission, Department of Planning, City of Melville, City of South Perth, Department of Transport, Public Transport Authority, and Main Roads WA as a joint initiative.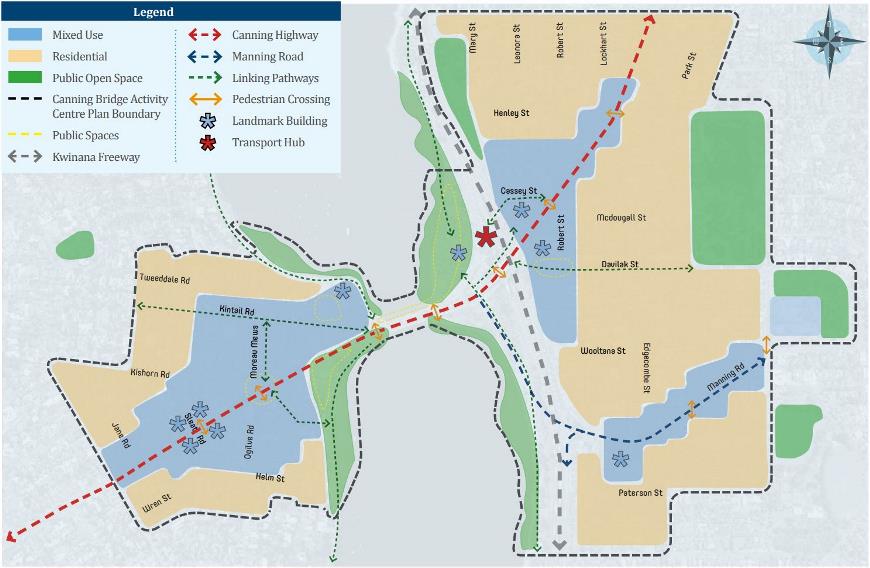 The Canning Bridge Activity Centre Plan (CBACP) is guided by the Canning Bridge Precinct vision statement:
'The Canning Bridge area will evolve to become a unique, vibrant, creative community centred on the integrated transport node of the Canning Bridge station. The area will be recognised by its unique location, its integrated mix of office, retail, residential, recreational and cultural uses that create areas of excitement, the promotion of its local heritage and as a pedestrian friendly enclave that integrates with the regional transport networks while enhancing the natural attractions of the Swan and Canning Rivers.'

Related documents