Libby Book Club for WA - June 2023
The Libby Book Club for WA is a monthly digital book club available exclusively to Western Australian library members hosted by local author David Allan-Petale.
The book club is delivered online with all attendees having the opportunity to engage and interact with the featured author each month.
South Perth and Manning library members can borrow the book chosen for the Libby Book Club for WA with no waiting or holds on the Libby reading app.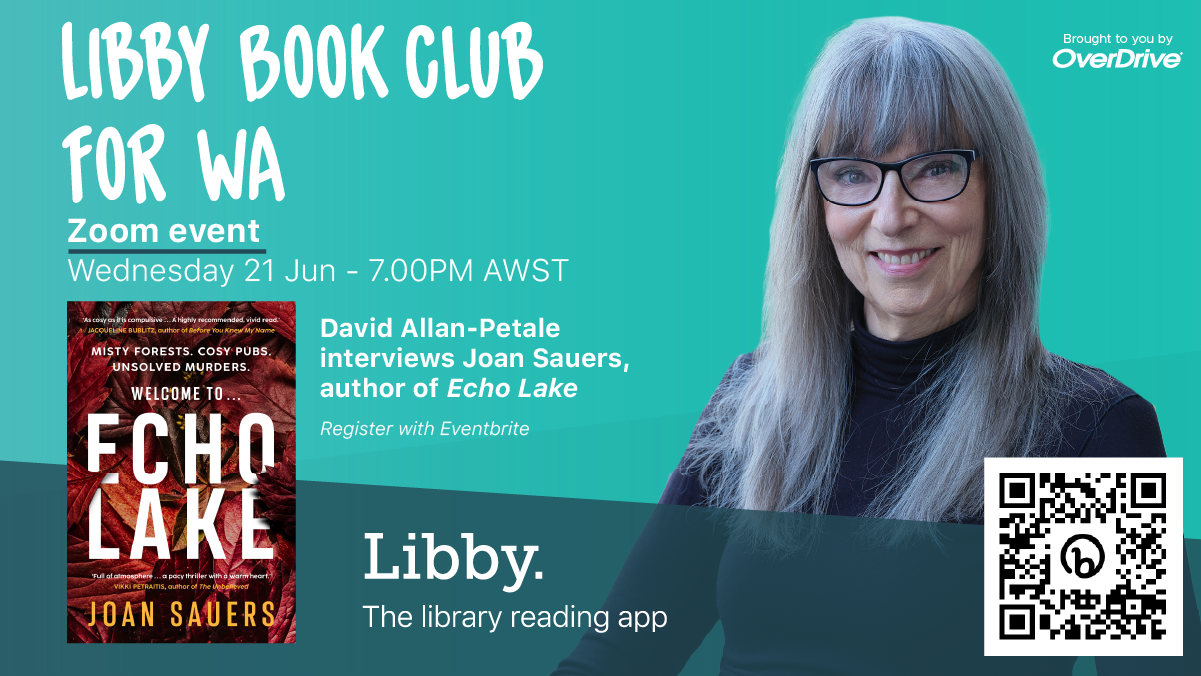 June Book Club
On Wednesday 21 June, join author David Allan-Petale in conversation with author Joan Sauers to discuss her debut thriller 'Echo Lake'. This event will be hosted on Zoom, the link will be sent to all attendees on the day of the event.
David Allan-Petale
David Allan-Petale is a Perth/Boorloo writer whose debut novel 'Locust Summer' (Fremantle Press) was longlisted for the 2021 ALS Gold Medal and shortlisted for the 2022 WA Premier's Book Awards. The manuscript was shortlisted for the 2017 Australian/ Vogel's Literary Award, and developed through a fellowship at Varuna, the National Writers' House. David worked for many years as a journalist in WA and internationally with BBC World and Al Jazeera, and is passionate about helping the arts sector thrive.
Joan Sauers
Born in New York, Joan Sauers is a screenwriter, producer and author who worked in London, Los Angeles and New York before settling in Australia. She has had fourteen books published and has also written many screenplays. She is currently writing the TV series Ladies in Black, and a sci-fi romance created by her daughter, as well as her next Southern Highlands mystery. Joan divides her time between Sydney and the Southern Highlands, with one daughter and two grandsons.
About the book - Echo Lake
In the sleepy, scenic Southern Highlands of New South Wales, a beautiful young woman goes missing.
Six years later, recently divorced historian Rose McHugh leaves the city to start a new life in the Highlands and finds a roll of film buried in her back garden. On it are photos of the missing woman.
Against the advice of an enigmatic detective, she uses her powers of persuasion and her knack for deciphering clues to pursue the case. As Rose searches through tangled secrets and hidden places haunted by the past, she realises there is a killer at large.
As she makes new friends, and dangerous enemies, Rose closes in on a suspect—but will she solve the mystery too late to save herself?
Set in the atmospheric villages and forests of the Southern Highlands, 'Echo Lake' is a compulsive read that will keep you guessing until the very end.