Libby Book Club for WA - May 2023
The Libby Book Club for WA is a monthly digital book club available exclusively to Western Australian library members hosted by local author David Allan-Petale.
The book club is delivered online with all attendees having the opportunity to engage and interact with the featured author each month.
South Perth and Manning library members can borrow the book chosen for the Libby Book Club for WA with no waiting or holds on the Libby reading app.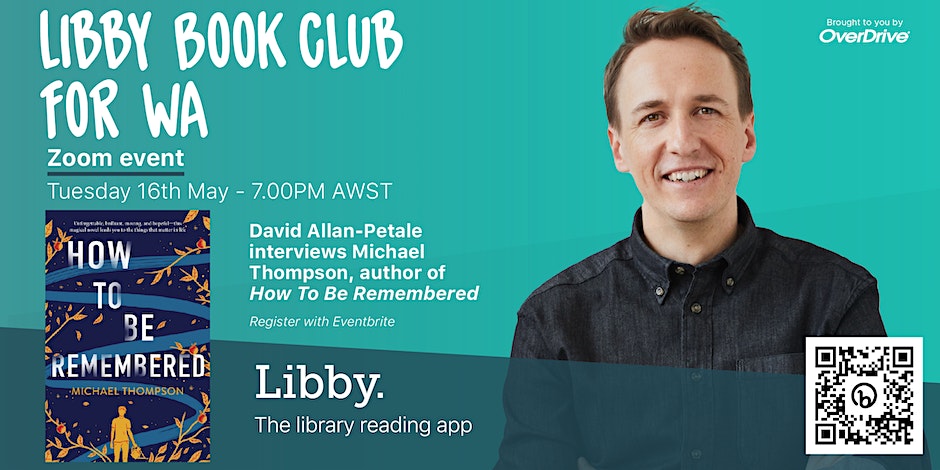 May Book Club
On Tuesday 16 May, join author David Allan-Petale in conversation with breakout author Michael Thompson to discuss his unforgettable new novel How to be Remembered. This event will be hosted on Zoom, the link will be sent to all attendees on the day of the event.
David Allan-Petale
David Allan-Petale is a Perth/Boorloo writer whose debut novel 'Locust Summer' (Fremantle Press) was longlisted for the 2021 ALS Gold Medal and shortlisted for the 2022 WA Premier's Book Awards. The manuscript was shortlisted for the 2017 Australian/ Vogel's Literary Award, and developed through a fellowship at Varuna, the National Writers' House. David worked for many years as a journalist in WA and internationally with BBC World and Al Jazeera, and is passionate about helping the arts sector thrive.
Michael Thompson
Michael Thompson has been a successful journalist, producer and media executive for the last fifteen years. He now co-owns a podcast production company and is the co-host of one of the highest-ranked podcasts in Australia. He lives in Sydney with his wife and two young children. How to be Remembered is his first novel.
About How to be Remembered
Some lives are simply unforgettable…
On an ordinary night in an ordinary year, Tommy Llewellyn's doting parents wake in a home without toys or nappies, without photos of their baby scattered about, and without any idea that the small child asleep in his cot is theirs. That's because Tommy is a boy destined to never be remembered.
On the same day every year, everyone around him forgets he exists, and he grows up enduring his own universal Reset. That is until something extraordinary happens: Tommy Llewellyn falls in love.
Determined to finally carve out a life for himself and land the girl of his dreams, Tommy sets out on a mission to trick the universe and be remembered. But legacies aren't so easily won, and Tommy must figure out what's more important - the things we leave behind or the people we bring along with us.
How to be Remembered is a heartwarming, poignant and ultimately inspiring novel about the important things in life.