Libby Book Club for WA - April 2023
The Libby Book Club for WA is a monthly digital book club available exclusively to Western Australian library members hosted by local author David Allan-Petale.
The book club, delivered online, will take place on the third Wednesday of every month, and all attendees will have the opportunity to engage and interact with the featured author each month.
South Perth and Manning library members can borrow the book chosen for the Libby Book Club for WA with no waiting or holds on the Libby reading app.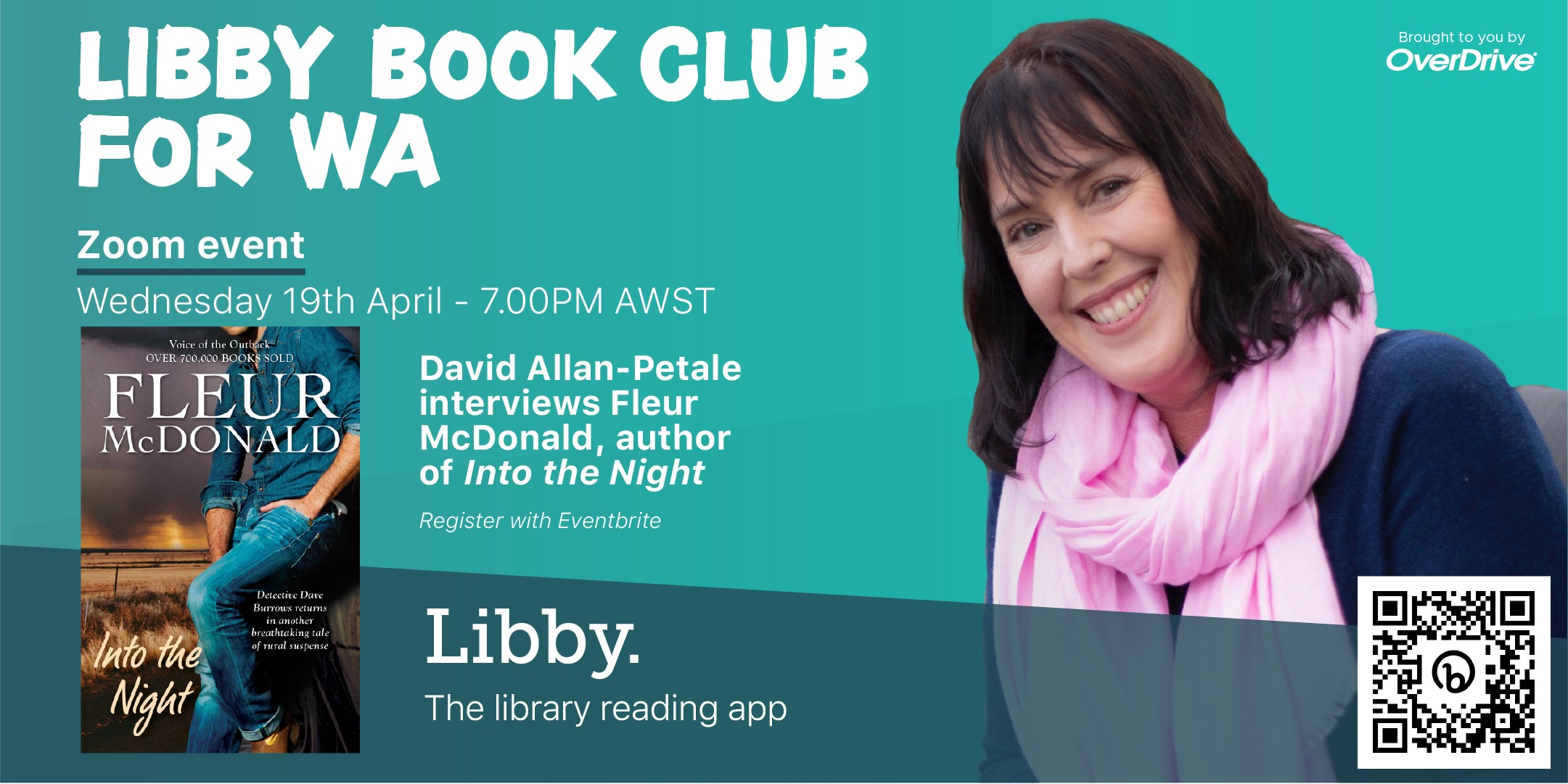 April Book Club
On 19 April, join author David Allan-Petale in conversation with author Fleur McDonald to discuss her suspenseful new novel Into the Night. This event will be hosted online, the link will be sent to all attendees on the day of the event.
David Allan-Petale
David Allan-Petale is a Perth/Boorloo writer whose debut novel 'Locust Summer' (Fremantle Press) was longlisted for the 2021 ALS Gold Medal and shortlisted for the 2022 WA Premier's Book Awards. The manuscript was shortlisted for the 2017 Australian/ Vogel's Literary Award, and developed through a fellowship at Varuna, the National Writers' House. David worked for many years as a journalist in WA and internationally with BBC World and Al Jazeera, and is passionate about helping the arts sector thrive.
Fleur McDonald
Fleur McDonald has lived and worked on farms for much of her life. After growing up in the small town of Orroroo in South Australia, she became a jillaroo before spending twenty years farming 8000 acres, east of Esperance, WA. Fleur likes to write about strong women overcoming adversity, drawing inspiration from her own experiences in rural Australia. Fleur currently lives in Esperance with her two children, an energetic kelpie and a Jack Russell terrier.
About Into the Night
Detective Dave Burrows returns in another breathtaking tale of rural suspense from the bestselling author of Rising Dust.
Detective Dave Burrows is devastated. After an acrimonious divorce, Dave has no choice but to let his ex-wife and her father Mark call the shots: supervised, one-hour visits are all he's allowed if he wants to see his two young daughters. And he knows he'll jump through any hoops to see Bec and Alice.
On Leo Perry's farm, sixty kilometres out of Yorkenup, the only positive in Leo's day is the unswerving loyalty of his dog, Coffee. Thanks to yet another power outage, Leo is out in the morning heat, refuelling the water pump. But seconds later he watches in horror as the tank explodes. Flames engulf wooden beams and sparks ignite grass just as Leo realises he's at the end of a one-way petrol trail, the fire roaring straight for him.
When Dave and his partner Detective Bob Holden are called to Leo's ravaged farm, they're unclear if they're dealing with arson, suicide or something else. There's been no sign of Leo anywhere, and his wife Jill is distraught. Leo and his dog appear to have vanished. But, when Dave and Bob begin their investigation, what they find makes no sense at all.