Libby Book Club for WA
The Libby Book Club for WA is a monthly digital book club available exclusively to Western Australian library members hosted by local author David Allan-Petale.
The book club, delivered online, will take place on the third Wednesday of every month, and all attendees will have the opportunity to engage and interact with the featured author each month.
South Perth and Manning library members can now borrow the first book chosen for the Libby Book Club for WA with no waiting or holds on the Libby reading app.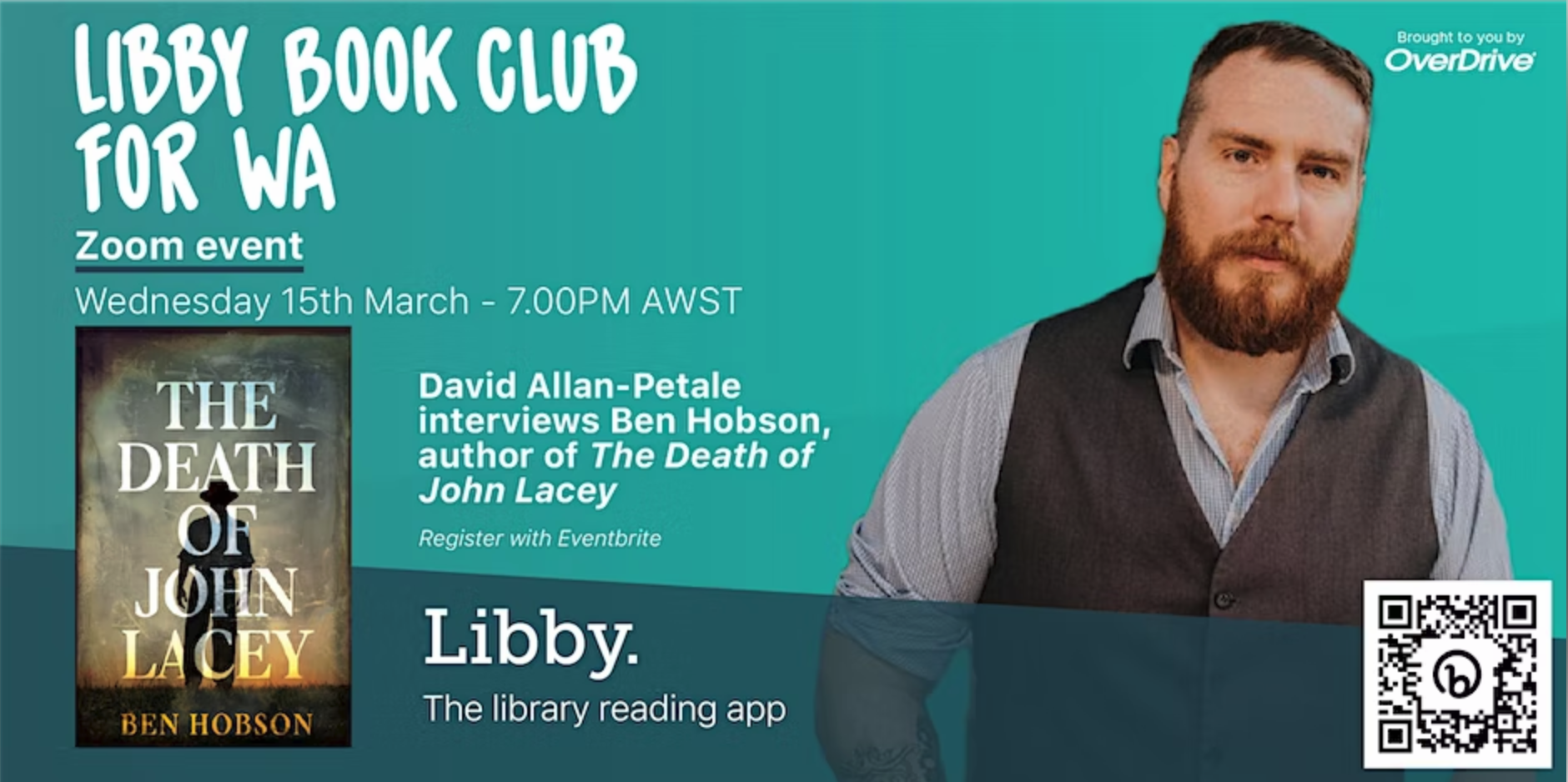 March Book Club
On 15 March, join author David Allan-Petale in conversation with Ben Hobson to discuss his third novel 'The Death of John Lacey'. This event will be hosted online, the link will be sent to all attendees on the day of the event.
David Allan-Petale
David Allan-Petale is a Perth/Boorloo writer whose debut novel 'Locust Summer' (Fremantle Press) was longlisted for the 2021 ALS Gold Medal and shortlisted for the 2022 WA Premier's Book Awards. The manuscript was shortlisted for the 2017 Australian/ Vogel's Literary Award, and developed through a fellowship at Varuna, the National Writers' House. David worked for many years as a journalist in WA and internationally with BBC World and Al Jazeera, and is passionate about helping the arts sector thrive.
Ben Hobson
Ben Hobson is a teacher, and an author, based in Brisbane. 'To Become a Whale', his debut novel, was released in 2017. It was longlisted for the ABIA Debut Fiction award and shortlisted for the Courier-Mail's People's Choice Award. His second novel, 'Snake Island', a literary thriller, was released in 2019. He also runs the Burgers, Beers and Books podcast. 'The Death of John Lacey' is his third novel.
About The Death of John Lacey
An Australian Western set in the goldfields of Ballarat, 'The Death of John Lacey' is a viscerally powerful story of greed, power and violence from the author of 'Snake Island'.
He felt the lump of gold still in his pocket. He would find his way out of this place and leave his brother happy and he would etch his name into the red earth or be damned. John Lacey's lust for power and gold brings him riches and influence beyond his wildest dreams. Only he knows the terrible crime he committed to attain that wealth. Years later, as Lacey ruthlessly presides over the town he has built and named after himself, no one has the courage to question his power or how he wields it.
Brothers Ernst and Joe Montague are on the run from the law. They land in Lacey's town and commit desperate crimes to avoid capture. Lacey vows retribution and galvanises those in the town to hunt them down. But not everyone is blind to Lacey's evil, and a reckoning is approaching.
A powerful dissection of dispossession, colonisation and the crimes committed in their name, The Death of John Lacey is also a moving and tender account of the love between brothers and a meditation on the true meaning of mercy and justice.